ISC is delighted to announce the release of Stork 0.8. The features provided in this version are:
1. BIND 9 Prometheus Exporter
The Stork agent now supports native statistics export from BIND 9 to Prometheus. This is the first time ISC has published a Prometheus exporter for BIND, although there are several open-source exporters available. This exporter does require installing the Stork agent, but it does not have any related dependency to run Stork itself. Users can use this exporter with Prometheus, with or without using the Stork dashboard. (At the moment the Stork dashboard does not provide any significant benefit for a BIND user.) The benefit of using the Stork agent to provide BIND statistics is, it will also provide statistics on the host computer. When troubleshooting some problems, such as performance problems in particular, it can be essential to see the platform resource utilization and the application data together. Please do let us know which statistics you would like to see in future Stork versions for BIND monitoring.
2. Events Log
A new subsystem has been implemented that collects and distributes events and event notifications. Stork is able to detect and report a number of events, such as detection of new service or a new subnet. It is not possible to subscribe to specific events yet; the main dashboard shows all events. We will be adding more events to the events log: this is the initial infrastructure for events.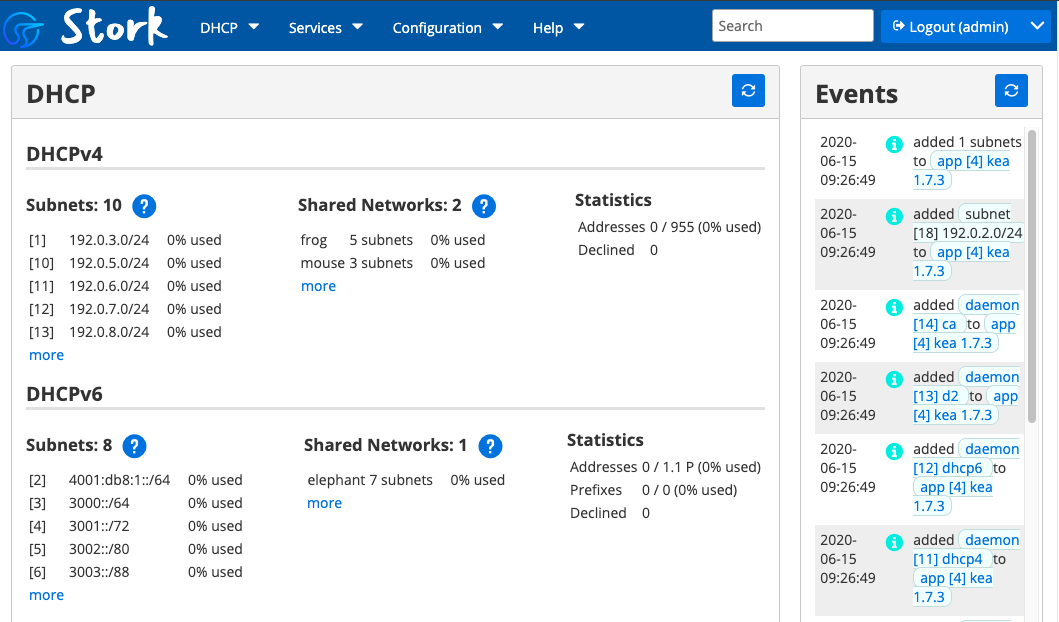 Stork Events Log
3. Improvements to the High Availability monitoring
Stork now shows the last time one of your servers in HA mode failed, if such an event was recorded by Stork.
Stork High Availability detail
4. Improvements to Host Reservations.
Stork is now able to show hostnames in host reservations, if specified.
Thanks again to everyone who assisted us in making this release possible.
We look forward to receiving your feedback.
---
Stork References
Source Code
The main source code repository for Stork is in ISC's GitLab: https://gitlab.isc.org/isc-projects/stork. It is mirrored on github.
The Stork 0.8.0 source code tarball is available on the ISC downloads page as well as on the ISC FTP server. ISC is also providing RPM and deb binary packages for Stork. They are available in our package repositories on Cloudsmith.
Issues & Mailing List
We have set up a stork-users mailing list. We encourage users to test Stork and report back their findings on the mailing list. Issues can also be reported on our GitLab page.
Documentation
The Stork Administrator Reference Manual is posted on Readthedocs.io.
Webinars & Presentations
We presented a webinar about Stork on May 6, 2020, in which we conducted a live demonstration. This and other recordings are available on the ISC presentations page.
Stork Micro Website
We have prepared a Stork microsite with links to all relevant resources.
Release Model & License
Stork has monthly development releases on the first Wednesday of each month (with some exceptions around holidays), although we may delay it a bit for last-minute changes.
Stork is released under the Mozilla Public License, version 2.0: https://www.mozilla.org/en-US/MPL/2.0
Download & Installation
The easiest way to install the software is to use native deb or RPM packages. They can be downloaded from:
https://cloudsmith.io/~isc/repos/stork/
The Stork source and PGP signature for this release may be downloaded from:
https://downloads.isc.org/isc/stork
Support
We support development of Stork and our other software through the sale of annual support subscriptions. Support for Stork is included with support for the ISC software it manages, Kea DHCP and BIND 9. Our sales team would be happy to give you a live Stork demo, or discuss your BIND and Kea requirements. Contact us for more information.