Report from the Kea Hackathon in Gdańsk last week:
We spent the first day of the hackathon working on the overall design for the management API for the "configuration in the database backend" feature coming in Kea 1.5, among other things. The discussion was around whether to overload the current existing subnet management commands, or to create a new set of API commands for managing subnets that are in the database backend. Other engineers working remotely advanced the Netconf and Yang support, also planned for Kea 1.5.
On Day 2 we were really happy to have two experienced Systems Administrators from Silesian University, Adam Osuchowski and Piotr Strzyżewski. Adam submitted five Kea issue reports via gitlab.isc.org. Many of them were accompanied with patches. Thanks a lot to Adam and Piotr for detailed issue reports and patches! One issue Adam raised at the hackathon was the decision to make Kea run in the foreground. Pros and cons of being able to run in background were fiercely debated.
Jeff Osborn, ISC's President, joined the group for Day 2. We spent over an hour on Day 2 of the hackathon talking to Adam and Piotr about DHCP management at Silesian and their requirements for management tools.
We also had two student participants: Franek Górski (who fixed a Kea bug during the hackathon) and Aleksandra Jereczek. Another highlight was the appearance of ISC's new QA Engineer – Michał Nowikowski, who will be joining us in November.
A lot of YANG/NETCONF code was reviewed and merged to master. The solution is not ready yet, but we made some progress in the right direction.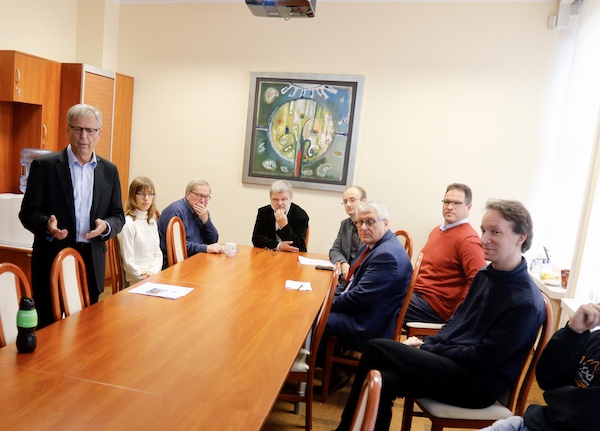 Prof. Józef Woźniak of the faculty of the ETI (Electronics, Telecommunication and Informatics) department kicking off the hackathon.
ISC thanks Prof. Jerzy Wtorek (dean of ETI faculty), Prof. Jacek Rak (dept. of Computer Communications), Prof. Józef Woźniak (dept. of Computer Communications), and Dr. Krzysztof Nowicki (dept. of Computer Communications) for their hospitality, their kind offer to host the event, and for encouraging students to participate. Thank you for having us and supporting open source!
After the hackathon, some of the local participants went out to eat. Part of the value of hackathons is in the social interactions.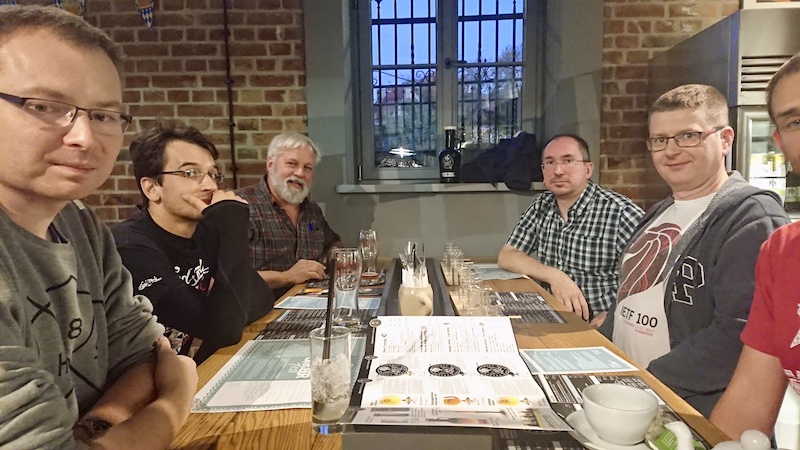 Discussing DHCP and other Internet problems in Gdańsk