We are happy to present another short profile of one of our engineers, to let our customers learn a little more about us. We hope you find them as interesting as we do!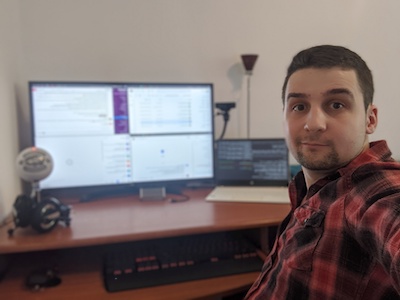 We are pleased to welcome Andrei Pavel as our new Quality Assurance & Support Engineer! He joins both the Support and DHCP development groups as a specialized resource.
Andrei began working for ISC full-time on October 1, 2020, and he has hit the ground running. He has already produced a couple of very useful resources for our customers: a KB article on Host Reservations with an operator "decision tree" and a file with examples of every possible option definition for Kea. He was happy to come work for ISC because "It's a versatile position that fits my 'jack of all trades, master of some' frame of mind." He says he's always been a "proud script kiddie," which is useful for his QA work, and he enjoys looking at issues from a customer's point of view. Andrei, who was an active contributor to Kea before joining ISC, "quenches his thirst for C++" by continuing to work on Kea features as well.
His educational background is in both natural and computer sciences: he holds a Bachelor's in Computer Systems Architectures from the Politehnica University of Bucharest and is pursuing a master's degree in Advanced Software Services. His previous jobs include customizing Kea for a large German telecommunications company and software consulting for a Romanian technology firm. He says he enjoys working on open source software because "I find satisfaction in watching software grow into the best version of itself, and I think keeping software development in a public forum is a step towards that. Also, making the code available to the public contributes to the idea of freedom, which I support."
Andrei likes the flexibility of ISC's working hours and the fact that we use the most up-to-date tools, as well as our fair group decision-making process. He says the bureaucracy of code reviews, triage, and unit tests here sometimes frustrates him, but he appreciates the fact that it all leads to solid, robust code. And he's also happy to be working with his former colleague Razvan Becheriu again, after Razvan joined ISC in 2019.
In addition to his full-time job, Andrei does a lot of side projects and enjoys working in such computer languages as C++, D, Dart, Flutter, Go, and Rust. He says that once he saw "the complex features that C++ offers, I became a language-oriented person and I wanted to know how each compares with other languages. I was even more amazed when I was introduced to Go, which maintains performance but makes concurrent programming a breeze. Rust changes the paradigm yet again by introducing affine types, which is like using unique_ptr for all pointers in C++. Finally, in my attempt to become a full-stack developer, I searched for a frontend framework. I stumbled upon Dart and Flutter, which promise 'one-code, all-platforms': mobile, web, and even the forsaken desktop. And they offer all the consistency you could dream of." He's even written his own Android app in Flutter as a tribute to a Romanian radio station.
Andrei's positive attitude and his "attention to seemingly non-significant details in software development, which turn out to be significant at scale," are already making him an important addition to ISC! He and his fiancee live in Bucharest and hope to get married next year, once the coronavirus is under control and they can have a proper celebration.
---
Thank you for using ISC's software and we hope you have enjoyed this peek behind the ISC curtain. We welcome your feedback at marketing@isc.org and look forward to bringing you more employee profiles in the future.